NonProfit Fan Club of James Hilton's Book and Inspired Arts
Utopia was a name coined by Sir Thomas More meaning "no where" in Greek. But the purpose of this site is to show that ideal places to live can and do exist. They may only be forgotten or lost lands which only need to be found. May this site is to help you find your lost horizon.
The classic tale of James Hilton's Utopian lost world plays out amid musical production numbers and Bacharach pop music. While escaping war-torn China, a group of Europeans crash in the Himalayas, where they are rescued and taken to the mysterious Valley of the Blue Moon, Shangri-La. Hidden from the rest of the world, Shangri-La is a haven of peace and tranquility for world-weary diplomat Hugh/Richard Conway. His ambitious brother, George, sees it as a prison from which he must escape, even if it means risking his life and bringing destruction to the ancient culture of Shangri-La.
James Hilton was a popular English novelist of the first half of the 20th century.

Hilton was born in 1900 in Lancashire, England, and found literary success at an early age, his first novel, Catherine Herself, having been published in 1920.

Several of his books found a new audience through film adaptations, notably Lost Horizon (1933), which won a Hawthornden Prize, Goodbye, Mr. Chips (1934), and Random Harvest (1941). Hilton died in 1954.

Join the JamesHiltonSociety.co.uk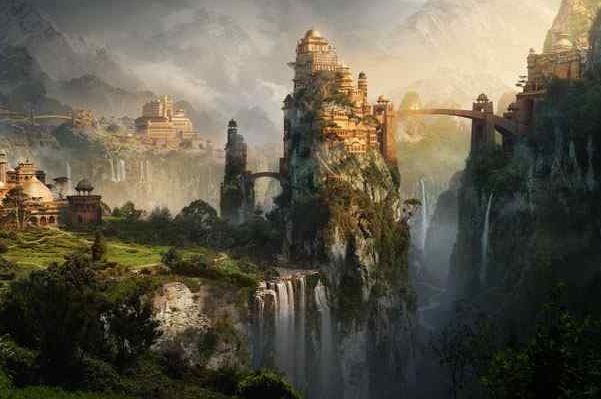 Shangri-La as depicted in Sky Captain and the World of Tomorrow


https://www.facebook.com/groups/55434813712/
YouTube: In Search of Myths and Heroes - Shangri-La
Mary Weiss
Betty Weiss
Mary Ann (Margie) Ganser
References to Lost Horizon and Shangri La

Trademark Acknowledgements
"There are moments in every man's life when he glimpses the eternal."
Richard Conrad
Lost Horizon is a trademark of Columbia Pictures
Scenes from Columbia Pictures' Lost Horizon